Here's the scene: You're the marketing manager responsible for your company's lead generation webinars. You're using these webinars as a means of generating qualified leads to pass along to your sales team, but webinars are only a portion of your duties. Other demand generation activities fall on your plate as well – list procurement, content syndication, field events, content creation, social media and the list goes on. This may be your story, and if it's not, you probably know someone else on the marketing team who fits the bill.
Marketers often forced to be reactive just as much as proactive. There is always an impending deadline. This post provides some tools that might make a marketer's job a little easier (and reduce the amount of recurring nightmares that we've missed something).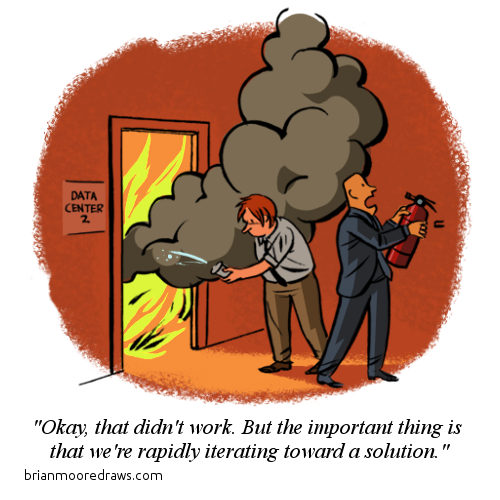 Since this post is written by a marketing manager that oversees lead gen webinars (yep, that's me), I know the value of having extra time. I also know the panic that sets in when organization falls short. So, ReadyTalk worked with Demand Metric to create the Tactical Toolkit for Webinars to help you effectively and efficiently set up your webinar program. The bundle includes the 11 templates to help eliminate the "scatterbrain" effect. Here are a few examples of what to you'll find in the toolkit:
Webinar Checklist – Do you like checklists? Silly question – all marketers like checklists. Here is one from start to finish for your next event including who is responsible for what items, when they're due and if it's completed, at risk, on hold or overdue. A great way to keep track of what you've delegated to which teammate (and who to hunt down when you're missing a deliverable).
Webinar Budget Template – It's just better when you know the spend of your marketing programs. Period. Rather than having your boss ask you about the cost per lead of a webinar prospect and replying with a blank stare, now you can show him or her from the get-go where each cost was incurred and stay within your allotted budget.
Webinar Risk Assessment – What better way to avoid a crisis than not allowing it to occur. Obviously we know that planning is key, but by outlining potential webinar risks, their impact and probability of happening you can begin to curb those instances. And because sometimes ____ happens, being proactive and determining how to mitigate issues in a timely manner is a must.
Webinar Project Management – Multiple webinars per month is not uncommon for many marketing teams. So who's keeping track of deadlines, where resources are lacking, if budget is creeping too high, and next steps? Drop down lists help identify the project status based on the resources, budget, value and potential risk. The template will automatically calculate the "Overall Project Status."
Webinar Promotions Calendar – Both sales and marketing should share visibility into upcoming events to drive prospecting. That's where a promotions calendar comes into play. Plan and monitor your promotional activities by channel (email, landing pages, PR, social media, etc). One calendar, less questions. Less questions equals more time.
Webinar ROI Calculator – Time is money. Webinars cost money, but they can also get you a far more qualified lead than a list or piece of syndicated content. So make the case for your webinar program with an ROI calculator. Weight your costs and benefits (both qualitative and quantitative) and prove the value of webinars as a worthy marketing investment.
Webinar Speaker Database – Maybe you're on the hook to provide speakers for a partner webinar. Or you've got a great topic but you can't remember 'what's-his-name' that did such an awesome job the last time he spoke on your series. Sometimes your Outlook foldering system just isn't going to cut it. Compile speaker contact info, subject matter expertise, cost, past events and more into your own mini-database.
Webinar Presenter Evaluation – You used your database to find a speaker and completed the webinar. How did he/she do? Is it worth your time to bring them back again? Avoid the run around and separate the wheat from the chafe for your event. This tool includes over 25 different requirements to compare potential speakers.
Webinar Evaluation Template – Webinar is complete – was it a success or a flop? Either way you've got to know how to building on strengths or learning from mistakes. There's a template for that. The goal is to develop a disciplined process for evaluating webinar success and then create standard, formalized, Best Practices that can be applied to future events. Talk about time savings!
Which of these templates do you think you'll find most valuable? Are there others that you think would be beneficial to your webinar planning process?